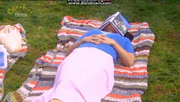 Mum 
is one of the main characters of 
Tommy Zoom
. She is an adult who lives in a house with her family. She lives with 
Tommy
, 
Daniel
, 
Baby Sam
, and 
Dad
. She is portrayed by Joanne Criss.
Appearance
Edit
Mum is an adult who lives in a house with her family. She wears a blue shirt and a long white skirt.
Personality
Edit
Mum is a clever and helpful adult. Her face is never shown and she never talks. She looks after Tommy, Daniel and Baby Sam when they go out, and she helps Dad with a lot of things. She always love to cook lunch for Tommy, Sam, and Daniel.
Relationships
Edit
Mum always looks after Tommy around the house. She loves taking Tommy out to different places along with Daniel, Baby Sam, and Dad. Tommy also loves Mum. Mum always loves to keep an eye out on Tommy when he's around.
Mum enjoys taking care of Daniel. Whenever it's lunch time, she always feeds Daniel. She loves to take Daniel out to the park with the whole family. She also gives Daniel some treats whenever he's a good dog.
Mum always looks after Baby Sam around the house. She loves to put Sam in the buggy for naps at other places. Sam loves Mum. Mum always love it when she spends time with Sam in the garden.
Mum and Dad are a good pair. Mum is always happy when Dad is with her at all times. She sometimes helps Dad when he gets clumsy.
Appearances
Edit
Mum has appeared in most episodes. She only hasn't appeared in 1 episode. Here are Mum's appearances:
In some episodes, Mum's face is never shown but it's sometimes seen for a quick second.